Additional 15% Discount upon checkout-no code needed
RURUHONEY's Rose Quartz Facial Duo uses natural cool stones that help to improve and encourage microcirculation and the flow of fresh oxygen to the skin. Pores instantly appear smaller and skin looks tighter.
Facial rollers ignite the skin's detoxification process through improved lymphatic drainage function as the rollers flushes out congestion and swelling. Overall, the skin  instantly appear smoother, more contoured and dewy especially when used in conjunction with skincare topicals.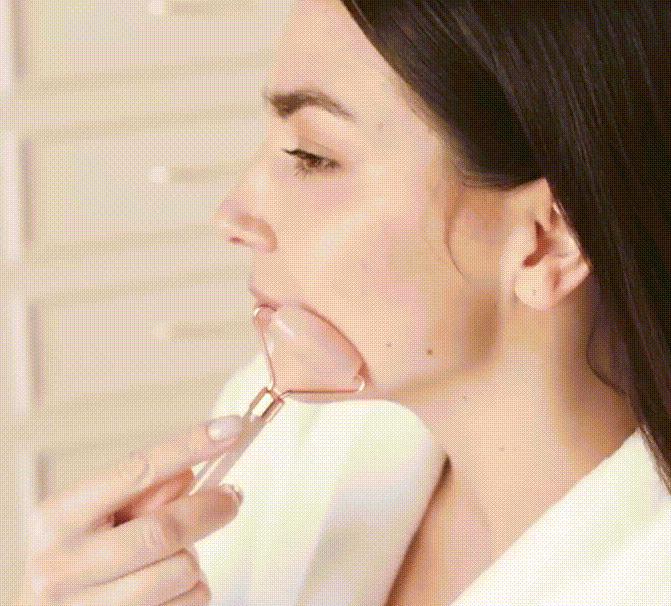 ✿✿ PRODUCT BENEFITS
Relieves facial tension and it is effective for all skin types;

Enhances skin elasticity by tightening and toning the skin;
Reduces puffiness, eye pouches and dark circles around the eyes;
Promotes blood circulation to the face for a natural healthy glow;
Improves product absorption;
Increases collagen production;
Helps lymphatic drainage;
Contouring facial structure, sculpting & lifting;

Calms Inflammation;
Tightening pores via the natural cold stone
Very portable - you can use it at anyplace anytime;
 ✿✿ PRODUCT METHODS
STEP 1
Cleanse face, pat dry, then apply your favorite serum or facial oil.
STEP 2
Using roller, start at the center of the face and roll outwards in long strokes towards the lymph node drainage point near your temples.
STEP 3
Replicate this up and outward motion on the forehead and chin areas to de-puff.
STEP 4
Use the smaller end to target the eye area and repeat the outward long strokes following the lines of your brow bone and cheekbone.
 Keep using the Rose Quartz Facial Roller each week to achieve better results in firming and keeping your face lifted. 
SKINSIDER TIPS:
Use the Rose Quartz Roller to seal in and maximize benefits of facial oil or serum during your morning and evening skincare routine.
To clean your Rose Quartz Roller, wipe gently with a damp cloth and towel dry after each use.
Place the Rose Quartz Roller in refrigerator for an instant spa-level cooling experience.
Keep the Rose Quartz Roller at your desk for a quick, refreshing pick-me-up any time of the day
 ✿✿ PACKAGE INCLUDING 

1 x Rose Quartz Facial Roller
1 x RURUHONEY Gift Box

 ✿✿ PRODUCT DETAILS Material : Rose Quartz
Rose quartz has inherent minerals- silicium, magnesium, iron, sodium and oxygen- that skin can topically borrow and benefit from when rolling.
 ✿✿ PLEASE NOTE:
Due to the nature of the stone, every piece is unique on its own. Colour & patterns may vary compared to the picture shown. Product colour may vary due to photographic lighting or your screen settings. Our Rose Quartz ranges from a shade of milky pale pink to a deep pink.
 ✿✿ PRODUCT VIDEO